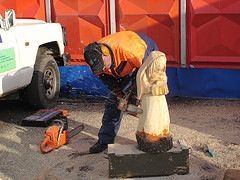 The City of Galveston (Texas) has taken a novel approach to cleaning up some of the 40,000 stumps left over from Hurricane Ike's 2008 visit: carving them into sculptures. So far about 20 of them are serving as tourist attractions (and hopefully reminders of the storm's devastation).
UPDATE: Speaking of devastation, the Chronicle is reporting that nearly 1,100 homes in Galveston have been abandoned in the wake of Hurricane Ike.
"Tree stumps in Galveston are shaping up nicely" (via the Houston Chronicle).
Image kh1234567890