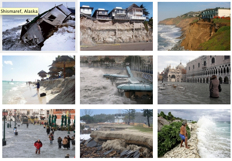 Orrin Pilkey, always a lightening-rod for coastal climate change issues, has written a gloomy forecast for the world's beaches, and has the photos to justify his positions.
He acknowledges that predicting the effects of sea level rise on beaches is complex, and that results will vary greatly depending on many factors. But overall, the picture isn't pretty.
It seems likely that the cities will be where the world's national treasure will be expended and the remaining shorefront communities will face eventual abandonment. For the sake of the beaches we can only hope that a real retreat policy will be instituted and as communities are abandoned, their buildings will be demolished and removed. Otherwise we can expect that within 40 to 60 years, the world's beaches will begin to be lined with debris from abandoned and deteriorating buildings providing much hazardous material to pollute the oceans.

If our beaches are to survive for our grandchildren's enjoyment, the time has come to plan the big withdrawal.
Worth a read (or a look: the photos are great, though troubling).