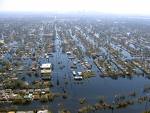 The Interagency Performance Evaluation Task Force (a group organized by the U.S. Corps of Engineers in the wake of Hurricane Katrina) has released a draft of a report evaluating the performance of the New Orleans hurricane protection system during Hurricane Katrina and to assess the risks posed to the New Orleans region by future tropical storms. While certainly worth a look by those in New Orleans, the report is interesting for everybody working in other coastal areas for its conclusion that we can't armor our way out of all coastal problems. In the words of the summary (written by the National Academies):
"The major guiding principle behind the construction and maintenance of the New Orleans hurricane protection system has been to "make the city safe." However, this report finds that approach to be—although noble—flawed. The greater New Orleans metropolitan region is naturally vulnerable to flooding, especially in areas below sea level. Although post-Katrina repairs to and strengthening of the physical hurricane protection structures have reduced some vulnerabilities, the risks of inundation and flooding never can be fully eliminated by protective structures, no matter how large or sturdy those structures may be."
Quite a shift from the old days when the solution was often to build a bigger seawall or levee. What do you think? Are they spot on? Missing the point? Let us know in the comments.
The New Orleans Hurricane Protection System: Assessing Pre-Katrina Vulnerability and Improving Mitigation and Preparedness or see the National Academies summary.