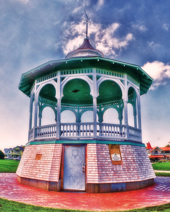 The community of Oak Bluffs, Massachusetts has joined Chatham (PDF) in passing a progressive bylaw that should help guide safe development in their coastal floodplains.
Here's the blurb from the Massachusetts Office of Coastal Zone Management's ever-useful CZ-Mail:
On September 16, the Oak Bluffs Zoning Board of Appeals voted unanimously to adopt special permit regulations (PDF, 53 KB) associated with the town's recently adopted floodplain overlay district bylaw. Oak Bluffs is one of [the Massachusetts Office of Coastal Zone Management's] CZM's StormSmart Coasts pilot communities, and CZM provided assistance to a team of local officials to develop these special permit regulations.

The new regulations:

Provide fair and equitable submission requirements and design criteria/performance standards to minimize potential loss of life, destruction of property, and environmental damage
Enable safe access for homeowners and emergency response personnel
Diminish monetary loss and public health threats

When the pilot project began, CZM staff provided assistance in drafting amendments to the town's existing floodplain overlay district bylaw, which were then adopted by town meeting in May by a near unanimous vote. The bylaw allows specific land uses by special permit, so CZM and Oak Bluffs officials then focused on preparing special permit regulations that clarify the process and parameters for development within the floodplain district. The new regulations also incorporate recommendations from CZM's coastal landscaping website. Landscapes with native plants can help coastal property owners prevent storm damage and erosion, provide wildlife habitat, and reduce coastal water pollution—all while improving a property's visual appeal and natural character. CZM congratulates the town of Oak Bluffs for it progressive work to protect its residents, businesses, and natural resources.
We'd like to join CZM in congratulating Oak Bluffs, too. Nicely done.
These regulations are refreshingly straight-forward. Essentially, they say: here's what you can and cannot do in our designated Floodplain Overlay District (established in their zoning bylaw), and here's how to apply for a special permit if you'd like to do something else. The regulation itself is only 5 pages long, and even with all the necessary appendices it's only 13 pages. You can download the regulations from the Massachusetts Office of Coastal Zone Management's site (PDF, 53 KB).
Again, really nice work.
Image Samantha Decker