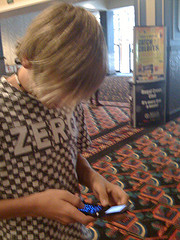 John Solomon, author of "In Case Of Emergency, Read Blog" has written an interesting and compelling editorial arguing that governments at all levels need to work harder to engage the business community in disaster preparedness. He says:
Government citizen preparedness campaigns over the past few years have raised awareness but not significantly enough to change societal behavior. This has been due to a lack of reach, frequency and sustainability of the communication, and the public's inability or unwillingness to follow the actions recommended. No matter how good and robust the message, behavior will not change unless actions being recommended are made more turn-key, familiar and affordable.
Partnerships with businesses, he feels, can help overcome these obstacles, and better bring hazard preparedness into the mainstream.
Sure, he's not the only one saying this (he later quotes FEMA head Craig Fugate saying effectively the same thing), but Solomon has come up with some good concrete ideas for how governments and businesses might both work to make this happen. I particularly like his photo-op idea of kids teaching their parents how to use their cell phones to send text messages so the parents are ready to use texts during an emergency.
Definitely worth a read.
"It's Time To Get Business Far More Into Citizen Preparedness: A Win-Win-Win-Win Plan To Raise Public Readiness Using Incentives, Product Marketing Techniques"
Image: Azureon2