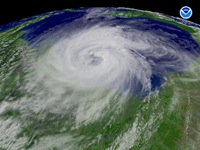 NOAA's National Weather Service has just announced that it will use a new hurricane scale this season called the Saffir-Simpson Hurricane Wind Scale. The new scale keeps the same wind speed ranges as the original Saffir-Simpson Scale for each of the five hurricane categories, but no longer ties specific storm surge and flooding effects to each category.
In their press release, the Hurricane Center explained that the decoupling of predicted winds and surge was necessary because storm surge values are dependent on many factors in addition to windspeed, including the storm's size, motion and barometric pressure, the depth of the near-shore waters, and local topographical features.
For example, they point out that Hurricane Ike (2008) made landfall on the upper Texas coast as a Category 2 hurricane with a peak storm surge of 15 to 20 feet, while Hurricane Charley (2004) struck Southwest Florida as a Category 4 hurricane, but produced a peak storm surge of just 6 to 7 feet.
Want more information? Read the press release, the webpage on the new Saffir-Simpson Hurricane Wind Scale, or for a primer, there's always wikipedia.