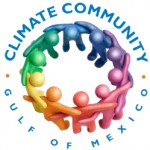 Public Group
The Gulf of Mexico Climate Outreach Program is assembling a Community of Practice to bring extension, outreach, and education (EOE) experts together to identify how to help coastal communities address the potential economic, social, and ecological impacts of Sea Level Rise (SLR) around the Gulf of Mexico (GOM). The project will discuss the impacts of SLR through a collaborative project involving the four GOM Sea Grant Programs (Texas, Louisiana, Florida and Mississippi-Alabama), NOAA capabilities, and other federal, state and local partners. The project will provide decision makers with reliable information and science-based guidance regarding both the level of risk to their coastal communities and strategies they can promote to effectively adapt to the rising sea level. This project will establish a long-term community of practice among EOE professionals in the Gulf region that will ensure continued dialogue and information exchange on SLR and other climate-change and coastal hazard related issues.
Public Website: http://www.masgc.org/climate/cop/index.html
Don't forget! Please join the Southeast & Caribbean and Gulf of Mexico Climate Communities of Practice for a look at the potential economic consequences of climate change for the Southeast region of the country as identified in the report titled, "Risky Business: The Economic Risks of Climate Change in the United States." We will have 2…[Read more]

New video from EPA on the costs of inaction — I might have liked to see a little more on the "what to do" side of things, but there is some of that at the end, and showing the rising costs of impacts is powerful…

President Obama Addresses the Task Force on Climate Preparedness and Resilience. Although you will not see her in this video, our own Mayor Patsy Parker was there as a Task Force member and got to meet the President. Many thanks to her for passing along this link and fact sheet.…[Read more]

This was a really neat webinar. I definitely recommend checking out the recording for those interested in communicating about climate change!

NOAA Climate Connection Webinar – Using the Science of Story to Enhance Climate Writing. Kendall…[Read more]

Webinar on August 7th:
Title: A Climate-Smart Approach to Adaptive Management of North-central CA Coast and Ocean Habitats, Species, and Ecosystem Services
Date: Thursday, August 7, 2014
Time: 1:00 pm to 2:00 pm EDT
To Register:

Here's the latest list of climate funding opportunities from Brent Schleck:

This document provides a snapshot of currently available, climate-related funding opportunities (as of July 8, 2014). We still plan to update this document twice per year, with the next version scheduled to be released in January 2015. The document is posted on The…[Read more]

Those of you who are interested in sea level rise tools and models might want to tune in to this webinar on Tuesday, July 1st at 2 p.m. central/ 3 p.m. eastern. Tom Doyle with USGS will be the guest speaker, and his presentation is titled, "Sea-level Rise Modeling Handbook: Resource Guide for Coastal Land Managers, Engineers, and Scientists"

Check it out! The US Conference of Mayors just passed a resolution on using natural infrastructure. And it mentions SLR…
Here's a link to all the resolutions, and the text of the natural infrastructure resolution.

Resolution to Prioritize Natural Infrastructure from the United States Conference of Mayors' 82nd Annual Meeting, June 20-23,…[Read more]

This April 2014 summary of extreme weather and climate events was developed by NOAA scientists and approved by NOAA's Research Council.