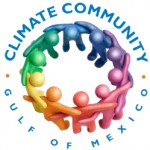 Public Group
The Gulf of Mexico Climate Outreach Program is assembling a Community of Practice to bring extension, outreach, and education (EOE) experts together to identify how to help coastal communities address the potential economic, social, and ecological impacts of Sea Level Rise (SLR) around the Gulf of Mexico (GOM). The project will discuss the impacts of SLR through a collaborative project involving the four GOM Sea Grant Programs (Texas, Louisiana, Florida and Mississippi-Alabama), NOAA capabilities, and other federal, state and local partners. The project will provide decision makers with reliable information and science-based guidance regarding both the level of risk to their coastal communities and strategies they can promote to effectively adapt to the rising sea level. This project will establish a long-term community of practice among EOE professionals in the Gulf region that will ensure continued dialogue and information exchange on SLR and other climate-change and coastal hazard related issues.
Public Website: http://www.masgc.org/climate/cop/index.html
Webinar on August 7th:
Title: A Climate-Smart Approach to Adaptive Management of North-central CA Coast and Ocean Habitats, Species, and Ecosystem Services
Date: Thursday, August 7, 2014
Time: 1:00 pm to 2:00 pm EDT
To Register:

Here's the latest list of climate funding opportunities from Brent Schleck:

This document provides a snapshot of currently available, climate-related funding opportunities (as of July 8, 2014). We still plan to update this document twice per year, with the next version scheduled to be released in January 2015. The document is posted on The…[Read more]

Those of you who are interested in sea level rise tools and models might want to tune in to this webinar on Tuesday, July 1st at 2 p.m. central/ 3 p.m. eastern. Tom Doyle with USGS will be the guest speaker, and his presentation is titled, "Sea-level Rise Modeling Handbook: Resource Guide for Coastal Land Managers, Engineers, and Scientists"

Check it out! The US Conference of Mayors just passed a resolution on using natural infrastructure. And it mentions SLR…
Here's a link to all the resolutions, and the text of the natural infrastructure resolution.

Resolution to Prioritize Natural Infrastructure from the United States Conference of Mayors' 82nd Annual Meeting, June 20-23,…[Read more]

This April 2014 summary of extreme weather and climate events was developed by NOAA scientists and approved by NOAA's Research Council.

For those who haven't seen the new CC and SLR video from the Story Group:

National Climate Assessment: Coasts chapter on Vimeo

"We are a coastal country," says Susanne C. Moser, a convening lead author for the National Climate Assessment's Coasts chapter, with 94,000 miles of…

The National Climate Assessment has been released. Here's an announcement, with links and highlights, from the USGCRP's Adaptation Science Interagency Working Group Co-chairs:

We are so pleased to support today's release of the Third National Climate Assessment: Climate Change Impacts in the United States. The Third National Climate Assessment…[Read more]

Here's some info about a climate change communications webinar this Thursday (May 8th) from 2-3:30 p.m. eastern. Angie Richman is one of the guest speakers, and she delivered a great climate communication webinar for our CoP in August of 2012. Here's the info in case you would like to join:

It Takes a Village: Effectively Communicating about…[Read more]

Exciting news! NOAA Climate.gov was selected by the International Academy of the Digital Arts & Sciences to receive two Webby Awards. The site also garnered a People's Voice Award which is determined by popular vote. The Webby awards are the leading international awards honoring Internet excellence.

Specifically, Climate.gov is a Webby Award…[Read more]

Just a reminder to help us get the word out about the small grants RFP the Gulf of Mexico Alliance Resilience Team released for communities to address vulnerabilities found in the Resilience Index process. Deadline for proposals is May 2nd. The full announcement and RFP can be found at: http://masgc.org/funding

Climate adaptation webinar from Ecoadapt on May 22nd!

Greetings Fellow Adaptation Practitioners -

We hope you can join us Thursday May 22, 1:00-2:00 PM EDT for the quarterly National Adaptation Forum Webinar: Community Adaptation in the City. The webinar will include presentations and panel discussions with:

Kara Reeve, Climate-Smart…[Read more]

Financial Resilience Training for Communities-Lake Charles, LA

We would like to invite you to participate in a workshop on Financial Resilience of local governments to natural disasters scheduled for Tuesday, May 13th, from 9:00am to 4:00pm in Lake Charles, LA. This workshop is being co-sponsored with the Louisiana Governor's Office of Homeland…[Read more]

Join the EDEN CoP tomorrow at 2 pm Eastern to hear Dr. Amy Dronberger discuss her research findings on who should help and what should they do to build resiliency in their communities. Bev Maltsberger will moderate this important webinar. See details about the webinar here.

It's not too late to register!