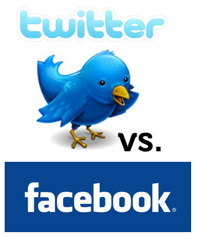 Another good post from John Solomon over at In Case of Emergency, Read Blog. Here, he's looking at how emergency management professionals use the two most popular social networking tools, Facebook and Twitter. In his interviews, he discovers that the two are NOT interchangeable.
It turns out that in most cases the two services are being utilized in somewhat different ways by different types of external users. Twitter is being used mostly as an informational source with speed and news being paramount for more of an official audience, while Facebook pages tend to be more of a place for public discussion and community building with more depth (i.e.. multi-media) and emotional involvement often for average citizens. But in a crisis, the two platforms will be used similarly to distribute and solicit emergency information. Both, officials say, have been very helpful to their informational outreach to the public.
Interesting that the option isn't one or the other: for maximum effect pros need to use both.
Definitely worth a read.
Emergency Managers Say Twitter & Facebook Being Used Differently — Twit: More "Informational," Speed, Official Audience; FB: More "Emotional," Community-Building, Public Discussion/Feedback. Though In Crises, Both Will Be Utilized To Distribute/Gather Info For Public, at In Case of Emergency, Read Blog