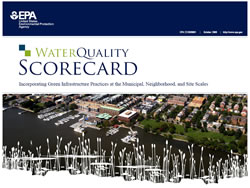 Dealing with storms means dealing with stormwater. EPA has just released a new resource for local governments to help them do just that. In their words:
"EPA has released a first-of-its-kind water quality scorecard designed to help communities in rural, suburban and urban settings incorporate green infrastructure practices to protect local water quality and improve both the built and natural environment. The Water Quality Scorecard was developed to help local governments identify opportunities to remove barriers and revise and create codes, ordinances, and incentives to better protect water quality. The scorecard guides municipal staff, stormwater managers, planners, and other stakeholders through a review of relevant local codes and ordinances to ensure that these codes work together to support a green infrastructure approach. The scorecard also provides policy options, resources, and case studies."
The readable report features, you guessed it, a straight-forward scorecard where municipalities can score themselves to see how well they're addressing their water resources and find ideas for how to improve their efforts.
You can read more about the report (or download it as a 4.6 MB PDF) on the EPA's website.