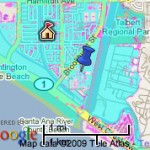 As part of a project funded by the California Energy Commission, California Department of Transportation, and the Ocean Protection Council, the Pacific Institute has created a web-accessible map of the California coast showing areas and infrastructure vulnerable to flooding and erosion under current ocean conditions, and those at risk with a 1.4m rise in sea level.
The site allows the viewer to easily pinpoint critical community infrastructure on the map, including:
Health-care facilities
Schools
Police stations
Fire stations
Wastewater treatment plants
EPA-regulated sites
Would a tool like this be useful for your community? If so, consider exploring creating one (remember to check out the funding section if you lack the in-house expertise to do so).