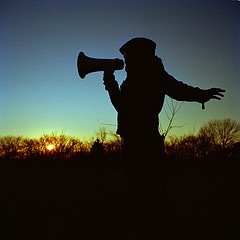 Louisiana State University has released a great brochure on best practices for communicating about hurricane risks. It's short, simple, and it makes sense. Here's the meat of it, broken down by audience:
GOVERNMENT OFFICIALS

Be Proactive in Educating the Public: Gaining compliance during a hurricane requires year-round efforts. Waiting until the storms hit invites disaster. Having an emergency plan AND a public relations plan in place before hurricane season is paramount for success during an actual crisis.
Keep Media in the Loop: Important announcements such as evacuations are more effective when the media has advance warning.
Keep Other Parish/County Officials in the Loop: What happens in one region affects other regions—from lodging, gas and supply needs to traffic and police concerns.

SCIENCE COMMUNITY

Be Proactive in Communication with Media and Government: Anticipating their needs can help them formulate and convey a consistent message, thus making their jobs easier and saving residents' lives and property.
Have a Backup Plan When Technology Fails: Create a hierarchy of communication channels that anticipates a complete technological failure. Know which channels serve as backups and have people on standby ready to trigger those options.
Avoid Jargon: Do not assume all understand the language of your technical expertise. Speak plainly to reduce uncertainty and confirm the audience's understanding.

MEDIA

Identify Your "Point Person" in the Scientific Community before the Storm: Don't waste time by asking different people in the same agency the same questions, or by having multiple staff in your organization ask the same questions repeatedly.
Create a List of Personal Cell Phone Numbers: Getting your contact on the phone can be difficult during a crisis.Be sure you can reach them anytime, anywhere in case of an emergency.
Spread the Message: In this age of media choice, use all forms of media at your disposal, including social media.

ALL DECISION-MAKERS

Avoid burnout
Build trust
Create a communication network
You can download the brochure or learn more about this Mississippi-Alabama Sea Grant Consortium-funded project on the LSU Hurricanes, Institutional Procedures and Information Processing website.
Image: Rex Dart